Research Fellow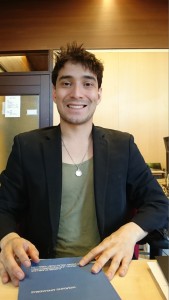 Dept. of Linguistics
Blandijnberg 2
9000 Gent
Belgium
ph: +31 610052489
Peter.Kerkhof at UGent.be
Biography
Peter Alexander Kerkhof is a historical linguist and philologist of the Old Germanic, Old Romance and Old Celtic languages. He studied History and Comparative Indo-European Linguistics at Leiden University (2006-2012) and worked as a PhD-lecturer in Indo-European Linguistics at Leiden University from 2013-2016. As a lecturer, he has given academic courses on Historical Linguistics, Old High German, Old Dutch, Old Saxon, Gothic, Paleolinguistics and Morphology. His dissertation Language, Law and Loanwords in Early Medieval Gaul; Studies on Romance – Germanic language contact and Gallo-Romance phonology (2016) concerns the value of prehistoric loanwords as a historical source in the interdisciplinary field between archaeology, early medieval history and historical linguistics. During his PhD-research, Peter Alexander Kerkhof has set up a national conference for Old Germanic Studies (Junius Symposium) together with his colleague Thijs Porck. He has also published several popular science articles in Dutch journals and magazines and has given multiple radio-interviews on the prehistory of Dutch. Currently he is working as an etymologist at the EVALISA-project at Ghent University where he focusses on the Indo-European origin of Old Germanic and Old Romance verbs that show non-canonical subject marking.
Specialization
Indo-European phonology
Old Germanic etymology
Old Romance etymology
Paleolinguistics
Early Medieval history
Academic Publications
Kerkhof, Peter Alexander (2015). "ModDu. Baas, Langobard. Barbas and their etymologies,"Amsterdamer Beiträge zur älteren Germanistik, Band 74, 61-75.
Kerkhof, Peter Alexander (2015). "Germanic goblins and the Indo-European fireplace," Indogermanische Forschungen 120, 77-86.
Academic Valorisation
Pop Sci article in newspaper 'Hoe de Friezen Oegstgeest hebben gesticht' (Fries Dagblad)
Theater performance Taal Museum in cooperation with A. Kloekhorst (2015)
Pop Sci article 'waar komt kaas vandaan' (Kennislink 2015)
Pop Sci article 'Het begon met een bevroren rivier' (Onze Taal 2015)
Public debate article 'Waar is het Oudnederlands in de Neerlandistiek?' (Neder-L 2015)
radio and national newspaper interview about the absence of Old Dutch at the Dutch Universities (BNR radio, Nederlands Dagblad august 2015)
Theater performance Onze Taal in cooperation with M. De Vaan en M. Van Oostendorp (2015)
Pop Sci article 'De vikingerfenis in de Nederlandse taal' (Neerlandia 2015)
Pop Sci article 'Oertaal met een Amerikaans accent (Onze Taal 2016)
Radio interview about the use of Proto-Indo-European in the Far Cry Primal videogame (BRT radio, may 2016)
Recent Presentations
Vienna, Fachtagung der indogermanischen Gesellschaft (2016), How to succeed in Indo-European without really trying (together with Cynthia A. Johnson)
Groningen, Oudgermanistendag (2016), Van Faras tot Förukona; heksen en hoeren in het Oudgermaanse recht.
Leiden, Symposium on Old English, Middle English and the History of the English Language in the Low Countries (2015), The Gothic Morningstar in the Bologna fragment; a new cognate to Old English earendel
Antwerpen, Oudgermanistendag (2015), Het ontstaan van het Waals, Germaans-Romaans taalcontact in de Vroege Middeleeuwen
Lausanne, the Codex Bononiensis international workshop on the Gothic bologna fragment (2014), Retracing the Lines: a new reading of the lacunae in the Bologna fragment
Editorship
Coeditor of peer-reviewed Old Germanic Studies journal, Amsterdamer Beiträge zur älteren Germanistik (Brill).
Classes
Gothic
Old Saxon
Old High German
Old Dutch
Historical Grammar Old Norse
Historical Linguistics
Introduction Palaeolinguistics
Introduction Indo-European phonology
Introduction Morphology
Introduction Comparative Indo-European Linguistics